Get the most out of your Kindle!
I'm announcing a new tool for Kindle users. P2 for Kindle is a WordPress theme built for group work and note-taking on Amazon's Kindle device.
As previous visitors to my blog may remember, I think of the Kindle 3G as my swiss army knife of internet-enabled devices. With an internet connection pretty much anywhere, a long-lasting battery and better stability than almost any other digital device, I've come to depend on my Kindle.
One of the major functions that the Kindle lacks is any sort of real note-taking ability. There are programs out there that let you take notes on the device, but I've yet to find any that will sync up with the web, allowing you to access the notes elsewhere.
You can now create that functionality with a WordPress blog and the P2 for Kindle child-theme: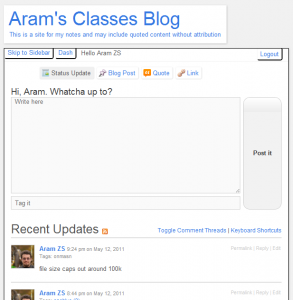 For months I've been filling that gap with the Automattic's P2 theme for WordPress, an AJAX-ed "Twitter in a box" theme with significant capabilities for real-time collaboration and organized note-taking. However, a number of flaws have made it difficult to use on the Kindle. I've (hopefully) fixed these flaws.
How does it work?
You'll need to have a WordPress website that allows you to install your own themes and plugins.
To get the P2 for Kindle child-theme working, you'll need to download one of the above packages, depending on your WordPress site's version.
When you uncompress the package you'll find three zip files.
p2.zip is the base WordPress theme created by Automattic. You'll need to install it for P2 for Kindle to work.
sidebar-login.zip is a WordPress plugin created by user jolley_small. I haven't really modified the code, just changed the default options so that it will display correctly.
p2-kindle.zip is the WordPress child theme I've built.
To get the theme working on your WordPress site, go to your dashboard. Click Add New under Plugins. Then direct the site to the sidebar-login.zip file and upload it.
Under Appearance go to Themes, click the Install tab and then upload beneath that. Choose the p2.zip file and hit upload.
Repeat step 2 with the p2-kindle.zip file.
Activate the P2 - Kindle Version theme.
You're good to go!
Once the theme is working, you'll be ready to take notes right away.
How have you modified P2 for use on Kindles?
I've incorporated a number of modifications to optimize the theme for use with a Kindle's unique requirements.
Thanks to a side button for posting, you can post without scrolling through all the text you've entered. It is also larger, to make it even easier to post.
The addition of a prompt for the text field allows multiple posts without refreshing the site.
The width of the theme has been decreased to fit the Kindle's 600px-wide resolution.
The sidebar has been moved to the bottom of the theme and skip-links have been provided at the top of page and sidebar to ease navigation.
Auto-complete entries for the tag box will now show up in a box with the same width as the field, allowing for easier selection with the four-way navigation button.
Theming and settings have been applied to the Sidebar Login plugin in order to allow simple and easy AJAX login for Kindles.
Logout and Dashboard ("Dash") buttons are available at the top of the theme.
The text field for posts now has a fixed height. This prevents the odd posting issues that would otherwise occur with the new version of the theme. The scroll-bar should no longer appear on the older version, as it is pretty much useless on a Kindle.
I already have Sidebar Login installed, what are the new settings?
Any options that were previously set to show are no longer set to show and all "Logged in links" have been removed. For the sake of space, the 'Logged out heading' is now "Login" and the 'Logged in heading' is now "Hello %username%". All other fields should be blank.
You called this a child theme, what does that mean?
Child themes consist only of a file with the CSS modifications and any modified files. The rest is loaded from the original theme, which is why you have to load in P2 before activating the Kindle version.
Something isn't working!
Just leave a comment with any problems you encounter or send me a tweet @Chronotope and I'll see if I can help.