You've seen Star Wars (very possibly more than once) and you want to join in the critical conversation, or at least see what people are going on about. Here's a list of the best writing on the web about the new Star Wars film, The Force Awakens.
What follows is a list of the best articles I've read about the new Star Wars film, please suggest more in the comments and I may edit in additions if people point them out. This isn't everything I've read, but you can find that list online too. All links here are from a central site where I've archived the pieces, but they will forward you to the original piece.
From here on out, there will be spoilers.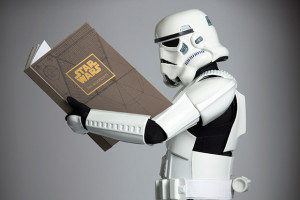 The New Inquiry's Aaron Bady takes the inclination to hyper-analyze Star Wars and the very idea of its originality and puts both under the microscope. That makes it the best candidate for perspective to start with before you dive deep into the critics.
Rey is not a role model for little girls (major spoilers ahead) Mike Adamick
Mike Adamick takes on and breaks down what makes Rey different from the endless boy heroes, a trend significantly boosted by the original Star Wars series. This unmissable piece discusses the significant positive impact of Rey as the hero of the new film.
The "Star Wars" fandom menace: The glaring emotional blind spots that power "The Force Awakens" – Salon.com
Lili Loofbourow at Salon takes on the problems of scale implicit in the plot of The Force Awakens. If you're at all interested in the ethics and impact of Star Wars on the modern media mind, Loofbourow breaks down the tragedy of Star Wars biggest flaw, how The Force Awakens gets away with it and what it means.
How Rey and 'The Force Awakens' could change 'Star Wars' forever – The Washington Post
Both The Washington Post's Alyssa Rosenberg and Laurie Penny for the New Statesman take on how Rey offers a direct challenge to the traditional Hero's Journey narrative archetype, with Penny sketching it out on the larger cultural stage and Rosenberg diving deep into the mechanics of change in The Force Awakens.
Star Wars Merch's Sexism Problem: #WheresRey Highlights Dearth in Female Toys – The Daily Beast
Jen Yamato documents the continuing trends in franchising and how they've led up to the dearth of Rey toys on the shelves. Throughout, Yamato tracks the rise and possible success of the #WheresRey social media campaign and takes care to illustrate why having more Rey action figures for sale is important.
Dear "Star Wars" fans: I'm super sorry I ruined the whole thing for everybody – Salon.com
Andrew O'Hehir, also of Salon, challenges the idea that any film franchise–much less one as large as Star Wars–requires its fans to jump to its defense.